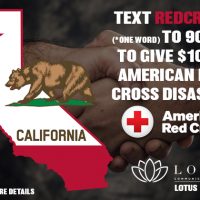 The California Wildfires have been devastating to our neighbors, friends and family.
La Caliente 1230AM is asking that you make a cash donation to the American Red Cross so they can help those affected by this ongoing disaster by texting, calling or donating directly through their website!
They're not seeking in-kind donations at this time as the Red Cross works closely with local community groups and organizations in the area of the disasters for in-kind donations. The donations for the California Wildfires will be used in their disaster recovery efforts—from purchasing supplies for clients to training volunteers and maintaining staff for the shelters, damage assessments and long term recovery process.
The Red Cross also provide direct cash assistance to the victims to start their individual recovery. There are multiple ways to make a donation:
---
To donate via text, please text REDCROSSto 90999 to give $10 to American Red Cross Disaster Relief, which helps people affected by disasters such as hurricanes, floods, earthquakes, wildfires and tornadoes.
Charges will appear on your wireless bill, or be deducted from your prepaid balance. All purchases must be authorized by account holder. Must be 18 years of age or have parental permission to participate. Message and Data Rates May Apply. Text STOP to 90999 to STOP. Text HELP to 90999 for HELP. Full Terms and Privacy Policy: hmgf.org/t.
---
To donate by phonevia credit card or to ask questions about donating money to the Red Cross, please call the Redcross at:
1-800-HELP NOW (1-800-435-7669) | Español: 1-800-257-7575 |  TDD Operator: 1-800-220-4095
---
To donate online, simply follow this link to the Redcross websiteand select "I'd like to support the California Wildfires" in the dropdown menu!